The Best Place To Buy Or Sell Secondhand Lorries, Waggons, Vans, Forklift Trucks, Lutons And Car Derived Vans
Search

The Units can be transported on a standard container trailer or Lorry and have the hydraulics built in to self load and unload.
Unit measures 8m x 4.5m with a large interior area and kitchen.
8 metre ground levelling, exhibition hospitality unit. Large, spacious and easily accessible.

Used by Metro Radio Road Show and Sunderland Airshow as hospitality unit - the 4mx 4m onboard stage can easily be extended by using steeldeck etc. Canopy shown in the picture can be available if required. PA systems and lighting also available on request.
Complete with Iveco urban tractor unit with 16000 only kilometers on tacho (5th wheel coupling.)
The unit cost £150,000 when new. Sale due to retirement.
We have taken off all branding so completely white with black rails.
Linton trailers 1996 megacruiser mobile stage/exhibition rig with 2 decks. 40ft overall length
£22000 VAT Free ono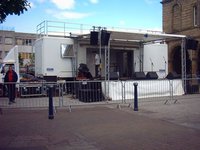 I am selling my project of 2 years as we have decided to quit the festival scene.This is an extended 40 foot high rise trailer, it s 16 feet wide created by using a 'drawbridge' extention to the front, in essence, doubling the width of the whole trailer. The height is 16 feet. On the stage is a massive drum riser and at the top end we have created a separate area for the sound engineers. Under the drum riser is a manual winch which lowers the surrounding gantry and raises the front of the stage to create a watertight stage for the winter.
£3500 +VAT ono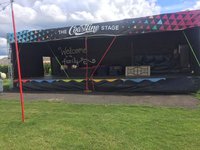 £15000 +VAT We have now sold our x2 ex Hyundai trailers. It certainly helped putting them on your great site so thank you very much and we look forward to doing business with you again. Additionally we have now sold the large hydraulic unit too – so great news and keep up the good work with your site – Thank you
£14000 +VAT ono each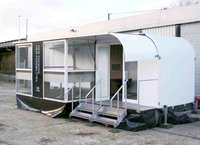 £5000 inc. VAT Showing 1 - 14 of 14 items